Electroless nickel plating, often referred to as (EN), is a process used for depositing a nickel alloy onto a substrate or surface without the use of electrical energy. Unlike electroplating, which does require a charge, the electroless nickel plating process involves submersing the substrate in an aqueous solution that contains a chemical reducing agent which acts as a catalyst for reducing the ions in the nickel deposit. The reduction process generally can use a few different agents to achieve its goal. However, sodium phosphite is used in over 95% of all EN plating.
Electroless Nickel plating is extremely versatile and reliable.
Unlike electroplating, EN plating produces an even application that impedes build up on the substrate. This build up often times require post process grinding to even out the surface. EN plating avoids this as it produces an even plating thickness which is crucial for achieving specific tolerances.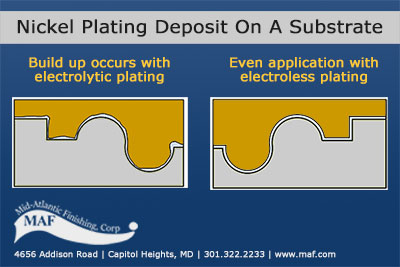 Additionally, EN deposits are often less porous than those of electroplating or hard chrome. This provides a superior corrosion barrier making electroless nickel plating especially beneficially for plating irregular items or parts that have recesses, internal surfaces, threaded parts or valves.
Because of it's exceptional resistance to corrosion and the metals high hardness, electroless nickel plating can be used in a wide variety of applications such as on parts that will be exposed to severe conditions such as that of the aerospace and defense industries.
Mid Atlantic Finishing Corp. Offers Electroless Nickel Plating Services To A Host Of Industries Including Aerospace, RF Microwave Communications, Defense Sector, as well as the Medical Field.
Our highly skilled and dedicated staff has the knowledge and ability to correctly pretreat our EN sequences and ensure accurate processes are implemented every step of the way. These steps are crucial to obtaining the best results and ensure excellent adhesion of the metal to the part and exceptional service performance from electroless nickel deposit on a multitude of metallic as well as non metallic substrates.
We would be happy to discuss our capabilities with you! Give us a call at 301-322-2233 to discuss your project today.
---
Mid Atlantic Finishing Corp. is located in Capitol Heights Maryland and services the entire United States. MAF offers the following metal plating services to the north east and east coast as well as nationwide:
Gold Plating Services, Silver Plating Services, Tin Plating Services, Tin-Lead Plating Services, Electroless Nickel Plating Services, Bright Nickel Plating Services, Sulfamate Nickel Plating, Copper Plating Services, Chemical Film Plating Services, and Precision Masking Services.
MAF is committed to the delivery of quality products to every segment of our customer base, a fundamental element of our Company's Purpose and Mission.
MAF is committed to full compliance with all the requirements of NADCAP AC 7004; AC 7108.