Metal Finisher
About Mid Atlantic Finishing Corp.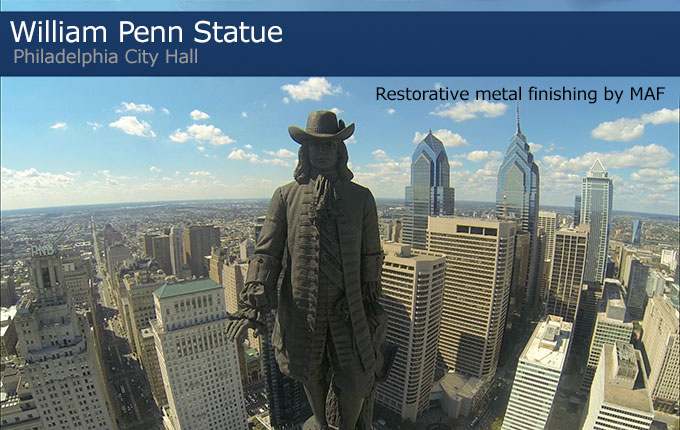 Mid-Atlantic Finishing Corp was established in 1976 and has quickly become the Nation's premiere metal finisher. For the past 40+ years, we have been providing a vast array of metal plating and metal finishing services to industries nationwide.
Whether it's creating complex microwave components with precious metal or plating all of the structural steel used in the restoration of the William Penn Statue atop Philadelphia's City Hall, Mid-Atlantic has demonstrated time and again its ability to understand what the customer wants and make it happen.
Mid-Atlantic Finishing Corp. is the Nation's Premier Metal Finisher
While MAF is provides metal finishing services to a variety of sectors, we are particularly well known for our ability to deliver a detailed product to exacting standards for the RF & Microwave Communications sector.
We are  a metal finisher that is exceptionally adept at maintaining thickness control in the application of coatings that are critical to the microwave component tuning (intermod testing), and we are consistent in meeting the very stringent high to low RF frequency requirements.
Mid-Atlantic personnel are involved in all aspects of the American Finishing Industry. The company opened its facility and devoted its resources to the regulatory arena at the Federal level, and has been instrumental in providing an informed perspective to those agencies.
B.J. Mason, Mid-Atlantic's founder and former President, is a past president of the American Electroplaters and Surface Finishing Society (AESF).
Mid Atlantic Metal Finishers offers the following advantages over our competition:
Prompt quotes
Ability to receive drawings electronically
Fast turnaround
Value-Added Services
Precision masking techniques
Unsurpassed Technical expertise
Competitive Pricing
State of the art test equipment
Lean, JIT, 5-S working environment
The Mid-Atlantic Team
Kishor Parikh
Chemist
301-322-2233 ext.213
Yeidy Geronimo
Q.C. Supervisor
301-322-2233 ext.210
Kelvy Jose
Production Supervisor
301-322-2233 ext.233
Our Values
We provide the highest level of proactive, personalized service in our efforts to research, design and deliver solutions for our customers.
Our diverse team efforts continually demonstrate mutual respect, collaboration and creativity.
We recognize that our strength is based on the talent and commitment of our employees. Therefore, we dedicate resources toward their development, reward and recognition.
We maintain the highest standards in our manufacturing and production processes to protect the health of our environment.
We are committed to high ethical standards of business conduct. Professionalism, fair play, commitment to philanthropy, and community service are principles of the company's development.
To be a steward of our environment embracing pollution prevention methodologies that meet or exceed all local, state and federal regulations.
Our Vision
We are a company that is flexible enough to deliver superb quality, value-added, custom results at a competitive price. We attract and retain the best talent as a result of successfully integrating a fun, positive work environment, leadership and people development with recognition and incentives. As a result, our 40-year history and legacy grows and prospers.
We seek out customers/partners who share our commitment to value-added design and development of quality products. We sustain profitable growth by developing existing markets and customers and identifying new complementary opportunities that allow us to maintain our uniqueness.