Chemical Film Coating Services
Mid-Atlantic Finishing Corp's. chemical film coating services provide a trivalent RoHS and ELV compliant aluminum chromate conversion coating that meets the requirements of MIL-C 5541, Type II, Class 1A as well as MIL-DTL-81706.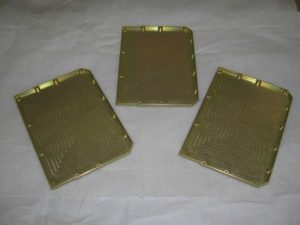 Chemical film coating is an aluminum chromate conversion coatings, known by the trade name, Alodine. Aluminum chromate conversion coatings are amorphous in structure with a unique composition when hydrated with water. This characteristic provides aluminum chromate conversion coatings with a unique self-healing characteristic if scratched or abraded.
Additionally, aluminum chromate conversion coating improves the corrosion resistance of wrought, heat treatable and cast aluminum alloys while providing an excellent base for subsequent painting or powder coating services.
Our chemical film coating services produces a thin coating in the range of 0.00001-0.00004 inches in thickness.
The chromate process provides a clear iridescent to slightly golden iridescent film of low contact resistance.
MAF provides aluminum alloy (2024 & 6061) chromate conversion coatings across a wide range of industries including aerospace, defense, medical, and electronics.
---
---
Chemical Film Coating Services To The Following Specifications:
SPECIFICATIONS
THICKNESS
COMMENTS
MIL-C-5541
superseded by MIL-DTL-5541
MIL-DTL-81706
Class 1A
Class 1A is used as a corrosion preventative film (if unpainted) or to improve adhesion of paint finish systems (if painted).
Class 3 is used as a corrosion preventative
film for electrical and electronic applications, where low resistance contacts are required.
Class 3
MIL-DTL-5541
MIL-DTL-81706
Type I
Compositions containing hexavalent chromium
Type II
Compositions containing no hexavalent chromium
AMS-C-5541
NG-PS80500KA