What Is Tin-Lead Plating?
Tin-Lead plating is when a layer of tin and a layer lead are co-deposited onto a substrate or base part. The alloy compositions used in tin-lead plating depends on the desired properties and intended application of the final product.
Why Choose Tin-Lead Plating?
If you are going for a more ductile, softer finish then this is the process you would want to choose. The alloys used in this plating method may contain 50 – 90% tin depending on the intended application of the part. Tin-Lead alloys offer a range of appearances from bright or semi bright to matte. It offers excellent corrosion resistance and improves solder ability.
Where Is Tin-Lead Plating used?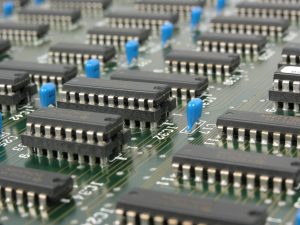 The most common use of this plating method is in the electronics industry. The alloys used in this plating process are excellent conductors and have a relatively low melting point which improves solder ability. The alloys used in this process are also very ductile and help protect the product from degradation during subsequent processes such as stamping.
On occasion, the tin plating process will produce a phenomenon known as "whiskers". "Whiskers" are tiny strands of tin that protrude from the surface. This occurrence can cause issues with electronic parts as they have the potential to create arches and electrical shorts if they happen to break off the part. The lead component in the tin-lead plating process greatly reduces the chances of "whiskers" forming.
Advantages Of Tin-Lead Plating For The Electronics Industry
Tin-lead plating is used most by the electronic industry due to the following points:
melts at low temperatures
improves solder ability
relatively corrosion resistant
excellent conductivity
ductile and are not harmed by subsequent operations
lead alloy stops the formation of tin whiskers.
---
Mid Atlantic Finishing Corp offers tin-lead plating services to a variety of industries. We have a diverse portfolio including 90/10 and 60/40 formulations and can produce custom formulas upon request to meet any specification.
Mid Atlantic Finishing Corp. is located in Capitol Heights Maryland and services the entire United States. MAF offers the following metal plating services nationwide:
Gold Plating Services, Silver Plating Services, Tin Plating Services, Tin-Lead Plating Services, Electroless Nickel Plating Services, Bright Nickel Plating Services, Sulfamate Nickel Plating, Copper Plating Services, Chemical Film Plating Services, and Precision Masking Services.
MAF is committed to the delivery of quality products to every segment of our customer base, a fundamental element of our Company's Purpose and Mission.
MAF is committed to full compliance with all the requirements of NADCAP AC 7004; AC 7108.